http://www.nottenera.it/2012/nottenera.php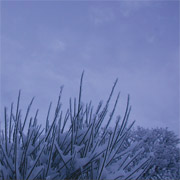 Matteo Uggeri, Luca Mauri, Francesco Giannico
Pagetos
Concerto
Recentemente l'italiana Boring Machines ha pubblicato l'ultimo capitolo di una trilogia iniziata nel 2007 e dedicata agli spazi tra gli elementi, all'interno della quale ha trovato posto un primo CD dedicato al deserto ("Erimos", tra terra e fuoco), poi un secondo alle nuvole ("Nefelodhis", tra aria e acqua) e un terzo al fumo ("Kapnos", tra fuoco e aria).
Infine questo "Pagetos", ossia brina, unisce terra e acqua in un ipotetico mattino invernale, nel 'risveglio' dell'alba, tanto che i brani sono titolati come ore del primo mattino, nel momento in cui la brina si scioglie e si trasforma in nutrimento per la terra.
Il concerto che si tiene a Nottenera è la prima performance derivata da questo concept giunto al suo quinto e conclusivo anno. Ad esso hanno partecipato numerosi musicisti della scena sperimentale italiana, tra cui Maurizio Bianchi, che assieme a Matteo Uggeri è l'iniziatore del progetto. È con quest'ultimo (a field recordings e tromba) che Luca Mauri (chitarre) e Francesco Giannico (pianoforte ed elettronica) proporranno un live denso di stratificazioni volte a portare gli ascoltatori dalla condizione del gelo notturno a quella della quiete della luce diurna.
Hanno scritto del disco:
"The fourth installment in the "Between The Elements" series, Pagetos, begins with the early crackles of ice forming on trees, treating the wee small hours as a blank canvas on which to layer and creep before the inevitable melt and disintegration come sunrise… This is music in extreme close up, locked on miniature detail watching individual blades of grass succumb to Jack Frost's icy touch and the veins freezing in fallen leaves. Beginning just a shade before five o'clock with "Ground Frost Breeding" and ending a minute after nine with "Melt", the Italian trio of Matteo Uggeri, Luca Mauri and Francesco Giannico take us on a journey through the world beneath our feet." FLUID RADIO (Steve Dewhurts)
"Suoni naturali che si inseriscono benissimo nelle emozioni del mattino in questa partitura sonora gelida e accogliente allo stesso tempo."
NICOLA CATALANO (Radio 3, Battiti)
"Pagetos surpasses expectations, and honors the set as a whole."
A CLOSER LISTEN (Rich Allen)
"Pacate suggestioni invernali, quasi da soundscape targato ECM."
RUMORE (Vittore Baroni)
"Uno scrigno di delizie arcane che non sapevamo di amare"
ROCKERILLA (Aldo Chimenti)
La traccia 5:34 AM – Calaverna compare su "Tapper" di The Wire nr. 28, Aprile 2012.
Video promo: Vimeo.com
Per ascoltare tutto il disco: www.matteouggeri.bandcamp.com
Informazioni in inglese: www.boringmachines.it
Pagina (in inglese) su tutto il progetto: www.greysparkle.com